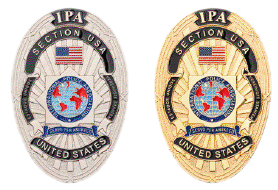 Visit the Metal Badge Website:
http://www.metal-badge.ch/en/index.php?language=en
And for a listing of International Badges:
http://metal-badge.ch/shop/index.php?cPath=21&language=en
Here is the brand new REGION 11 Challenge Coin that was designed by a Region 11 life member, Paul Goldstein.  He did an outstanding job.   ​Price is $9.00 each ($10.00 if mailed).  Click here for more about the coins.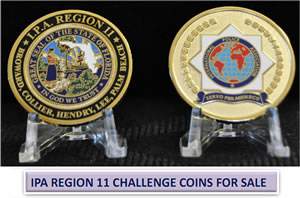 ATTENTION ALL IPA MEMBERS
Thank you for your interest in the Region 11 challenge coins.  Due to the high volume of orders, Region 11 will have to add an additional fee for shipping
Please add $1.00 to your order of 1 – 2 challenge coins.
Please contact B47irishnd@aol.com, if you wish to purchase more than 2 challenge coins sent to your address.  This way they can calculate the postage by the weight of your personal orders.  Again, thank you for all your interest in obtaining these beautiful coins.